The Island Inn and Atlantic Beach Vacations Has It All
When folks spend their time here with us at Island Inn, they generally leave with the great satisfaction of knowing that choosing a vacation rental in Atlantic Beach, NC was a wise decision indeed.
Atlantic Beach is an excellent destination for a fun-filled but affordable vacation, and whether you come as a single, a couple or you bring the entire crew, your time here will certainly be well spent. From dining to entertainment or shopping and cultural events, Atlantic Beach is ideally situated to literally hundreds of unique attractions along the Crystal Coast.
Of course the Atlantic Ocean as well as the quiet blue waters of the Bogue Sound and their accompanying gorgeous beaches are fantastic enough that we could just stop right there. After all, what could be better than a sunny day and waves rolling up onto the miles of sparkling sand? But Atlantic Beach, NC is so ideally situated that even a simple two night getaway can be packed with so many varied activities that you will have to spend part of your time lazing in the sun simply to recover!
Atlantic Beach itself has numerous attractions with its beaches, fishing pier, whimsical shops and well known eateries, but you may not realize that within a very short distance of Atlantic Beach just over the causeway with its breathtaking views you can tour the charming and quirky town of Morehead City as well as historic Beaufort. With their unique boutiques and galleries as well as their very fine waterfront restaurants, these two neighboring towns are a "must see" during your vacation stay.
Also just a short distance away is awe-inspiring Fort Macon, a pre-Civil War fort of considerable historic significance. The NC Aquarium, located in nearby Pine Knoll Shores is another favorite destination for kids of all ages and has recently expanded and upgraded its fine facilities.
If you're a nature lover then visiting the wild ponies of Shackleford Banks is a must as is a trip to Atlantic Beach's own Theodore Roosevelt Natural Area, one of the few remaining maritime forests on our state's coast.
And what about fishing? You can't beat fishing off the local pier with other like minded enthusiasts. The Island Inn hotel in Atlantic Beach is ideal for that two night stay to get in some quick weekend fishing. Or stay longer and go out with one of the local charters for some fantastic deep sea fishing. Or if you love the water but not the fish, join one of the local sightseeing boat tours that run throughout the area. You can even take a romantic dinner cruise to watch our incredible fiery sunsets over the ocean.
As you can see, the possibilities are endless. And while the local accommodations are just as varied as the activities available, from high rise Atlantic Beach condos for rent to quaint cottages or mega hotels, we hope you'll choose to stay with us here at Island Inn when you come to visit. We're a privately owned, newly renovated motel in Atlantic Beach with a delightful tropical flair and down home friendliness and we'd love to make your stay the best you've ever experienced. Come as our guest and you'll leave as family!
We invite you to check out our available rooms to choose just the right one for your Atlantic Beach vacation. An easy click of your mouse will give you a chance to look us over. Then use our online booking system to book your favorite room. Or just give us a call and we'll be happy to help you out. And after that you just wait for the next step - getting here and starting your best Atlantic Beach NC vacation ever!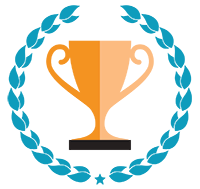 Island Inn of Atlantic Beach has won several awards!
View our awards here.